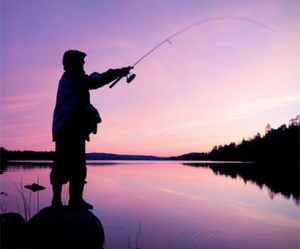 Oklahoma fishermen are no stranger to the wide variety of fish available off the shores, and in the waters, of Lake Eufaula. As the biggest reservoir in the State, the lake has hosted many national tournaments for both crappie and bass.In fact, Lake Eufaula is considered a top 10 crappie lake nationally.
As the 15th largest lake in the United States, Lake Eufaula is known as the "Gentle Giant." Though many different varieties of fish can be found throughout the waters year-round, spring and fall present a beautiful backdrop desired by many visiting fishermen. Southeast Oklahoma has become synonymous with scenery available during these seasons.
Lake Eufaula boasts both sandy beaches and rocky bluffs, making it one of the most unique lake experiences in Oklahoma. Boasting over 600 miles of shoreline and 102,000 surface acres, there are many exciting recreational activities available for a wide variety of individuals. However, fishing remains a top draw for the lake as a whole.
Fish Found in Lake Eufaula
No matter what your skill level or expertise, there are many fish that can be found to accommodate your needs in Lake Eufaula. Though crappie and bass remain the most sought after fish in the lake, there are many other fishing opportunities available. Some other fish you may encounter include:
Crappie
Largemouth Bass
Smallmouth Bass
Sunfish
Blue Catfish
Channel Catfish
Longnose Gar
Walleye
Though this list isn't exhaustive, it hopefully gives you a good idea of the variety of fish available in Lake Eufaula. If you are a more experienced fisherman, you may have the opportunity to break a lake record throughout your visit. What are you waiting for? Come and try your luck!
Why Belle Starr Marina?
Getting your boat onto Lake Eufaula shouldn't be hard. For this reason, Belle Starr Marina makes the process as simple as possible. With a wide variety of boat slips available for daily, monthly or yearly rental, we can make your fishing days worry free.
For added convenience, Belle Starr Marina also has ethanol-free, 91 octane for your boating needs. If you need simple items like food or important items like life jackets, we can also help with that too. We hope to help make your lake experience the best yet!
Call us at (918) 689-2132 or contact us today!